Blog
10 Best Recruitment Tracker Templates to Use
Back to blog
Posted by:
September 27, 2021
Hiring managers and recruiters are constantly juggling vast amounts of data and applicant information, so when it comes to the recruitment tracking process, any tools that help simplify it are a must-have.
Recruiting is hard, but tracking shouldn't be. If you are in search of a better way to organize everything, look no further.
Here at ScoutLogic, we've compiled the ten best templates to manage the recruitment process.
We'll talk about both simple templates and more advanced options for when your needs get more specific. Discover how streamlined and easier your job can become when your management system makes sense.

Use a simple tracking template for all your applicants across the board. Standardize the process by including the most relevant details for each column.
For example, fields for job title, job description, salary range, and years of experience all give you a quick overview of the position's needs. You can see how each applicant fits into the requirements. This quick high-level overview makes it easy to understand where each candidate ranks in your search.
The template also has an interview section to record notes, application and interview dates, and overall score. After compiling the data, you can set the applicant's status and decide if you will extend an offer or move on to the next applicant.


A template focused on recruiting puts the applicants first. Columns detail your interview Q & As, resume links, application date, deadlines, cost, and status.
A single tab spreadsheet means no more searching for details across pages and pages of content. Everything is right in front of you where it needs to be. You can choose to organize the candidates by last name, ID number, or even date of application.
Leave room for the offer date and acceptance details. But also include information on why you decline an offer or why a candidate chooses not to move forward. This information will become helpful as you broaden your horizons for the next job search.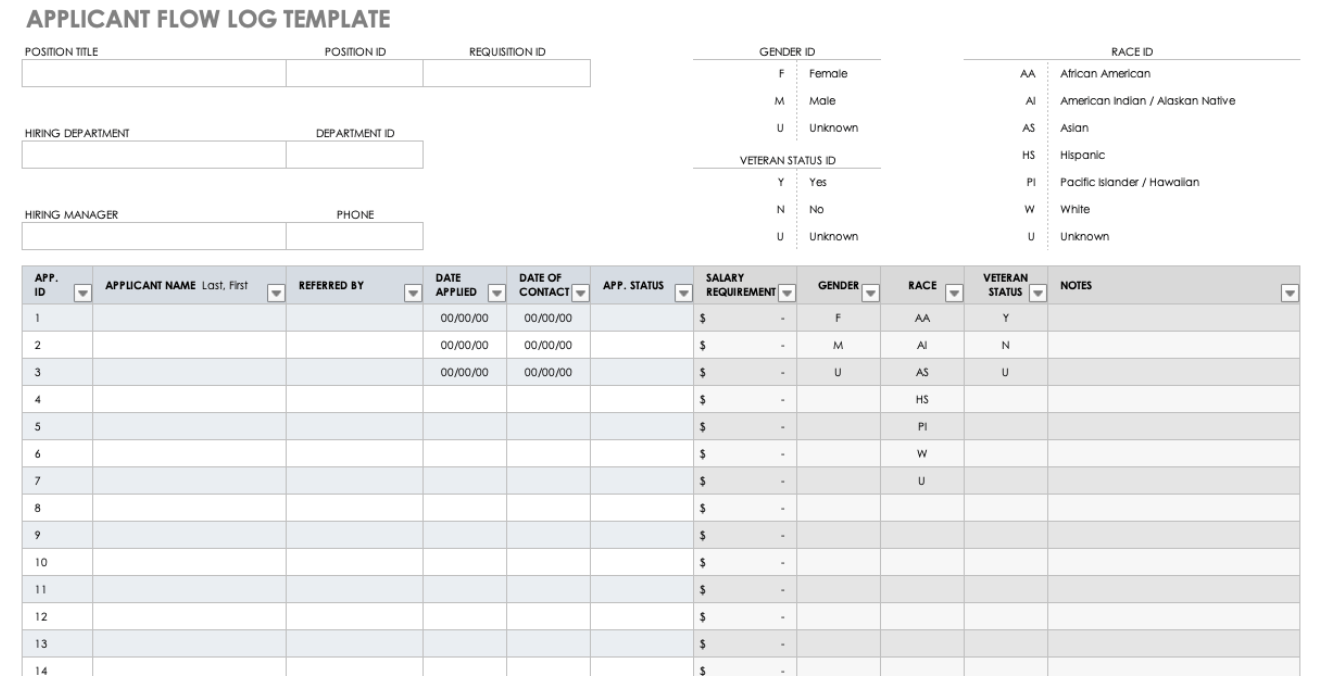 This style of template lets you track a candidate from application to onboarding. The primary benefit of this template is how comprehensive it is. There is room to include details surrounding race, gender, and military/veteran status.
This spreadsheet also provides space to include the names and contacts of all hiring managers who will have contact with the applicant.
This holistic look at each candidate provides an in-depth overview of their qualifications and skillsets. If you are after a template that gives you all you need to know, this is the one.

A data tool template is ideal for calculating the details involved in hiring.
Payroll for small businesses generally covers about 30% of a company's expenses, so a column for salary is essential in determining the bottom line. You can filter by salary to alter your hiring dates until the best quarter when looking at the template.
Differentiate between job types such as part-time, full-time, contract, or seasonal to standardize your cost analysis in the long run.
Job title, specific job level, department, and position location columns are also essential fields of this statistical template.

An HR tracking form is for everyone on the team to analyze together.
All essential information is readily available, so anyone glancing can get a good idea of which candidates are moving forward and which are not.
Keep track of the dates for each interview so that one person on the team does not schedule the wrong interview. The convenient status dropdown menu allows anyone on the team to toggle between "open" and "closed" so you know who is moving forward to the second and third interviews and who is not.
HR teams need a tracker as integrated as they are. Trust this template to act as another member of the team.

This form is best for companies with fewer employees or companies just starting in their industry.
The spreadsheet lists all the contact information for each candidate as well as room for individual evaluations.
It is all too important for small businesses to keep a close eye on their finances. This template comes with a salary requirement column. When working with a strict budget, this column will quickly become a crucial reference point.
A referral column is necessary when a single hire can make a big difference in your company culture. Always follow up with the name in that field.
When you're not working with an entire HR team or have a dedicated hiring manager, it is vital to keep all the data in one place. A small team will benefit from the seamlessness of a small business tracker template.

When it comes time to ask important questions, you don't want to miss anything. Use an interview template, so you can go through your list of must-ask questions and record the answers in the adjacent column.
Mark off each candidate as you go, including their answers along the way. You also can use the recorded responses to consider their prospects.
Record their current employer and the designation at their current job. Never forget to follow up on their references. This field is a marker of honesty and trust. Mark their current salary to gauge what your candidate might ask for and whether that's within the approved salary range for the position.
Interview questions are the best way to learn how your applicant responds to situations in real-time. Interviews are also necessary to see if the resume matches the person in front of you.
The interview process is complex enough; make interviews easier by asking the right questions and organizing them with this template.

When managing several vacancies simultaneously, a multiple position tracker helps you get an overview of them on a single page.
The fields include the length of vacancy and target date of fulfillment. You can also keep track of the number of vacancies for multiple openings in the same job.
Group your dream team by designation, project location, and target start date. Often, a new project will require a new team. This tracker makes filling out the group faster and easier.

Just as important as the interview and screening process, much of recruitment is keeping track of confirmations.
There can be extensive paperwork following an offer and preparing for new employee onboarding. The date of hiring and the first day of work need to be specified, along with their designation, grade, and brand-new employee code.
As the hiring process moves forward, you need confirmation of your offer before the set deadline.
Follow the confirmation status column and determine just how long you are willing to wait before rescinding your offer.

If your company has a high turnover, whether it is a seasonal job or if you mainly hire contract freelancers, this chart is for you.
You can organize this spreadsheet by weeks or months, depending on your needs. Include the candidate's available start date so that you can plan your hiring timeline efficiently.
Use this template to plan out your team for each week of the quarter. If you expect constant changes, this sheet will keep track of your plan.
Recruiters that work based on quotas will also benefit from this chart. This chart will make crunch time easier to manage if you seek to hire a certain number of people within a deadline.
Conclusion
At ScoutLogic, we are dedicated to maximizing your time and efficiency. With these helpful templates, you'll be able to find, interview, and bring on talented candidates in record time.
When it comes time for the all-important background check, we'll take it from there. With our 'Scout Service' model, we partner your hiring team with one of our experts. The Scout will report back to you during every step of the background check process.
Are you ready to get high-quality background services from trusted professionals?
Get in touch with ScoutLogic today! Order your free assessment now!
Looking for a better background check company? Start by preparing with this free guide.
Download this free guide to go into the searching process prepared. This guide includes actionable steps to:
Gather your requirements
Determine vendors
Check references
Determine success metrics
get a free e-book