Blog
Employers Willing to Overlook Criminal Records to Hire the Right Person
Back to blog
At a time when unemployment is at a 17-year low of 3.9 percent and 70 million Americans—or 1 in 3 adults—have a criminal record, employers are widening their search for job candidates to include people with criminal histories. U.S. employers are willing to hire someone with a record if that applicant is the best person for the job, according to a study from the Society for Human Resource Management (SHRM) and the Charles Koch Institute (CKI) released in 2018.
Employers are willing to consider candidates with criminal histories if they have good references, a solid performance record and a certificate of rehabilitation and are trained in skills the employer is seeking, according to the report. Six states—Arizona, California, Illinois, Nevada, New Jersey and New York—offer rehabilitation certificates or something similar.
In fact, two-thirds of managers and three-fourths of HR professionals have hired people who committed misdemeanors or substance-related felonies such as DUIs. Fewer report hiring people convicted of violent or theft felonies. And more than two-thirds of HR professionals who have hired people with criminal histories think their quality of work is as high as or higher than the work of employees who don't have a criminal record.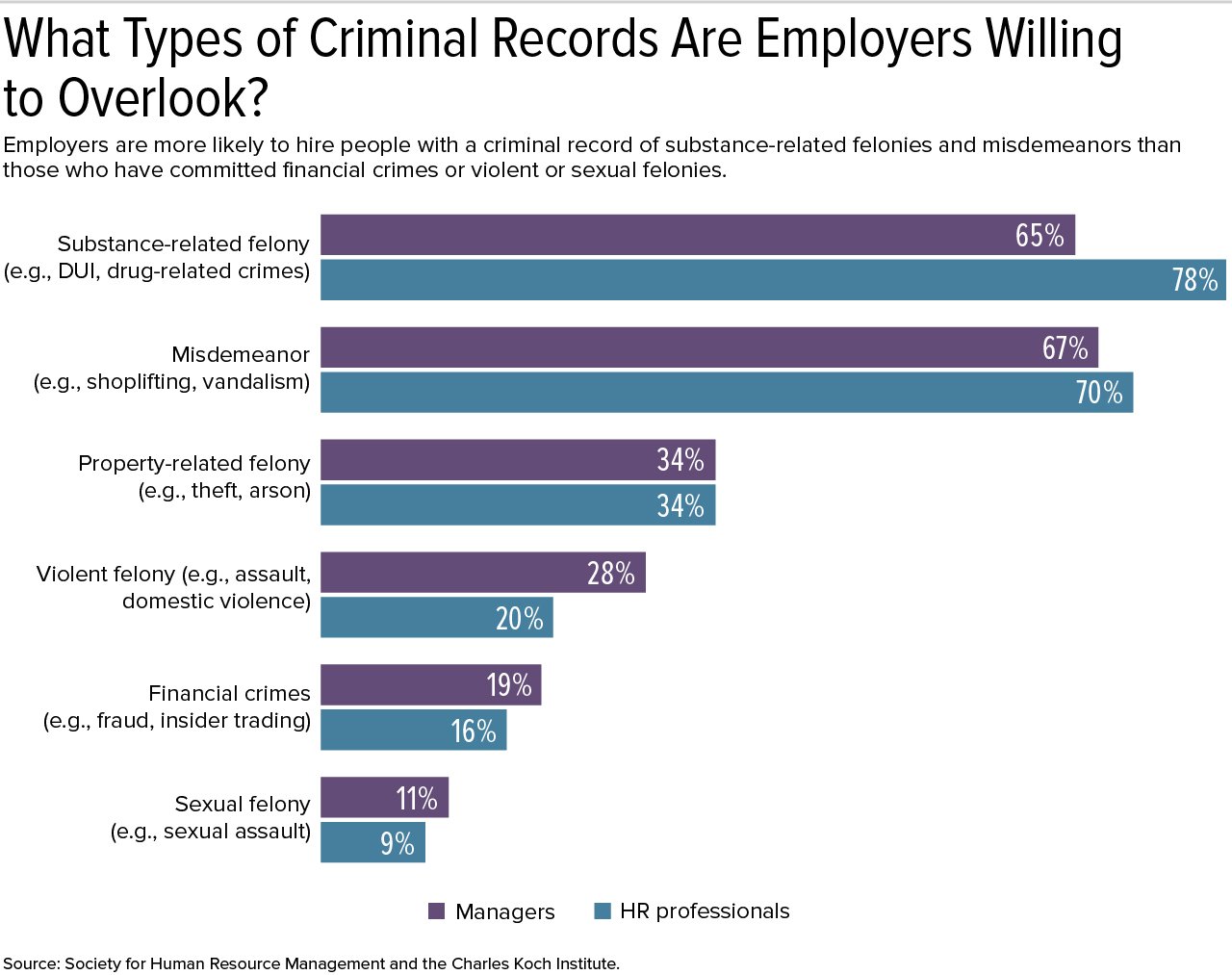 The findings are from a survey SHRM conducted with 1,228 HR professionals in March and interviews that the national opinion research center, NORC at the University of Chicago, conducted with 540 managers—including members of the C-suite—and 512 nonmanagers in March and April. CKI helped fund the research.
"A criminal record should never be viewed as an automatic disqualification for employment," said Johnny C. Taylor, Jr., SHRM-SCP, SHRM's president and chief executive officer. He is an advisor to the Safe Streets & Second Chances program, a project of the Right on Crime initiative at the Texas Public Policy Foundation.
---
Get a Free Assessment on your Background Check Program
---
Given the war for talent, "employers must think differently about both jobs and the people who can fill them," he said, noting that many people with criminal records are willing and able to work.
"It's time to put an end to the stigma that holds back inclusive hiring and retire outdated employment practices."
In 2012, the Equal Employment Opportunity Commission (EEOC) cautioned employers to be judicious about basing hiring decisions on job applicants' criminal records, noting it could have a disparate impact on people of color and national origin, SHRM Online reported.
Blanket bans on hiring felons is unlawful, but criminal history and other background checks are common as prescreening hiring methods. Nearly half of those surveyed said their organization asks applicants if they have a criminal history.
But while managers and HR professionals are willing to hire someone with a criminal history, there is a lack of clarity around their organizations' stances on this issue, said Trent Burner, SHRM-SCP, vice president of research at SHRM. Only one-third of HR professionals said their company has a formal policy about hiring someone with a criminal record, but a majority of managers and non-managers think such a formal policy exists.
Even less clear to more than 40 percent of managers and HR professionals are their organizations' policies toward current employees convicted of a felony. Among HR professionals, 69 percent speak to the employee about the charge, 67 percent verify the company's policy regarding felonies, 21 percent suspend the employee and 17 percent issue a warning. More than one-fourth (27 percent) fire the employee.
SHRM found that while there is a willingness to hire people with criminal records, only 5 percent of managers and 3 percent of HR professionals said their company actively recruits people with criminal records.
Main concerns HR professionals have about hiring someone with a record is the employer's legal liability if something should happen, customer reaction if it were to become known that some employees had criminal backgrounds and government regulations that hinder such hiring. A number of industries and licensed occupations bar the hiring of people with certain kinds of criminal records, Burner pointed out. Managers share HR's concerns to a slightly lesser degree. Only a small percentage of HR professionals and managers were concerned about employee performance (15 percent and 9 percent, respectively).
In fact, 66 percent of managers and 60 percent of HR professionals at companies that have hired people with criminal backgrounds rated the quality of work by those employees as comparable to those without criminal records. And 82 percent of managers and 67 percent of HR professionals think that the value new employees with criminal records bring to the organization is as high as or higher than that of workers without records.
SHRM plans to release a toolkit for members later this year to help organizations have conversations about hiring from this population. It is not advocating for or against hiring people with criminal records, Burner said.
"We're advocating that HR lead a conversation regarding employment of people with criminal records to determine what stance is best for the organization."
*This post was originally posted in 2018, this is a repost.
Looking for a better background check company? Start by preparing with this free guide.
Download this free guide to go into the searching process prepared. This guide includes actionable steps to:
Gather your requirements
Determine vendors
Check references
Determine success metrics
get a free e-book